Do you like being a little off-bit? Do you have a taste for out of the ordinary? Do you prefer things that are anomalous? Actually these days standing out of the crowd is something everybody tries to have a hand on. Tell me who amongst you will not like a flabbergasted gaze from jealous neighbors when they stare at your newness. So adding to that I come to the point, here is the Limited Edition Black Treasure Clock that if once appears on your drawing room wall will surely draw questions like, 'Oh! That's awesome! Where did you pick it up from?' Seems you don't believe me, don't do just have a look.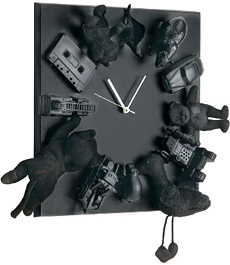 This one you see here, isn't it an eerily attractive piece?
This clock is just a square board stuck on with vintage toys. The only thing that makes this a clock is the minute and the hour hand. You will surely appreciate its authentic looks with remarkable sculptural qualities. The clock is enough to transform the dull simplicity of the wall into one with the stunning ambience of extended accent.
As far as the other details are concerned, the clock is available in two pastel shades of black and white and it comes at a price of $130. And the ones who prefer black, it's better you hurry up, the stock is already thinning out.