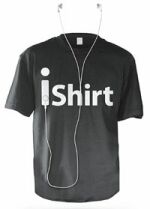 This iShirt can becomes the next fashion fad among iPod Lovers. Adding a small 'i' to the product's name you can do wonders to your sales and PodShirt has also thought of the same.
This normal black Tshirt comes with iShrit printed in its front and interestingly I is actually a iPod Shuffle which is attached to the Tshirt with a magnet.
This wearable technology is rocking man. iShirt costs $29 obviously excluding Shuffle.
Via Popgadget