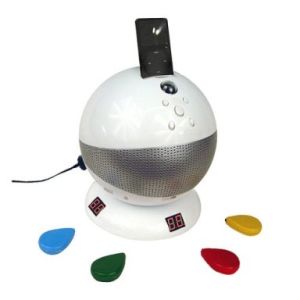 When it's snowing in late fall or winter season, all I want to do is chill by the fireplace and play boardgames. Scrabble, boggle, Cranium, magic cards, doesn't matter to me. Any kind of board games will do the trick. If you are like me and own an iPod, it's time for some music based fun. The iNo Interactive Game System keep things interesting.
The iNo is almost like your everyday karaoke system with a twist. It lets the users hook up their iPods in the docking station, allowing them to play a game. What kind of game? Well, it's the name-a-song/artist/album game. This is a great way to share some hidden iPod secrets that some people might have. For example you never know the person next to you are interesting in Kelly Clarkson or Dixie Chicks.
Players are provided with four color coded buzzers. So all they have to do is just hit the buzzer when they are ready. I consider this iNo to be a must have for the round the corner holiday season. Instead of a traditional board game, try using the iNo. This will jazz up the holiday house party.It will only cost you about 80 bucks.
Source: PopGadget