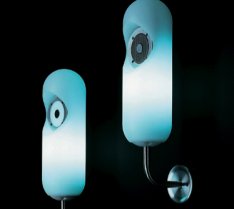 Heard "we are going to Ibiza"? The place for perfect parties, where the sun kisses the sea! Oluce, an Italian lampmaker has taken the concept of Ibiza to design these stylish and effective speakers that offer ambient lighting as well.
Depending upon your choice, the Ibiza speakers stand somewhere between 21″ and 45″ in height on a brushed-steel pole and come with a 20-watt compact fluorescent bulb. It has a tiny speaker that keeps the ambience just right, so we can melt away the day's stress. A separate stereo cable is included. The speakers put out 20 watts, sufficient for your style-conscious garden, parking lot or funky new garage. It's also available as a wall sconce. The housing is made from opaline polyethylene, while a metal speaker face makes it ooze with coolness.
The price of the lamp/speaker starts at $700 and goes all the way up to $900.
The size Options for the lamp includes
Medium without Speaker: 27.6″ height x 4.7″ diameter.
Medium with Speaker: 27.6″ height x 4.7″ diameter (+$120.00)
Large without Speaker: 47.2″ height x 4.7″ diameter (+$60.00)
Large with Speaker: 47.2″ height x 4.7″ diameter (+$180.00)
Source – Ubergizmo