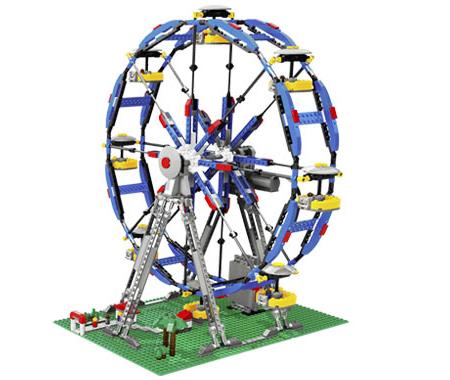 Life is so boring without fun and excitement. Here is a very exciting Ferris wheel to have fun. No, it's not the normal ferris wheel on which you can sit, but is one you can see rotate with some micro-mini people around. Isn't it exciting? It's a wonderful creation from Lego. You can build this Ferris wheel on your own too. It's very colorful and also has carts that sway back and forth. The entire kit features a ticket booth, micro people, trees and baseplates to complete the scene.
The Lego Ferris Wheel has a motor that rotates it. Everything happens almost as the real ferris wheel, I mean it starts rotating very fast and then slows down.

This colorful Ferris wheel measures over 17″ (43 cm) wide and 18″ (46 cm) high. And actually the base plate gives a great look for the entire construction, and also gives a good grip for each building. You get baseplates of 2 sizes, 1) 10″ x 10″ (25 cm x 25 cm), and 2) 5″ x 10″ (13 cm x 25 cm).
Bring home the entire kit, just open it, and you will find a battery box, a motor to make models move and also instructions to rebuild into a moveable drawbridge or a working building crane. You just need to buy the 6 AA (1.5v) batteries to see them move.
So, get some batteries along with the complete building kit from Lego and have some excitement and fun!