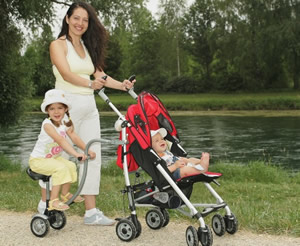 If you happen to be a parent of two little ones, then you are reading an article just meant for you. I don't need to ask how you feel when you go out shopping, while pushing the stroller of your infant with the toddler in tow, dragging the baby most of the time!
The Swiss Strolli Rider from Happy Stroller is here to put an end to those stressful outings!

The Strolli Rider can be hitched to any stroller, giving your little one a cool place to sit, while you maneuver the infant in the stroller, with ease.
It has large durable wheels and is suitable for children 15 months or older, and up to 20kgs of weight. The easily adjustable rider can accommodate a growing child by fixing the padded seat, footrests and the handlebars.
Via: Sparkbugg