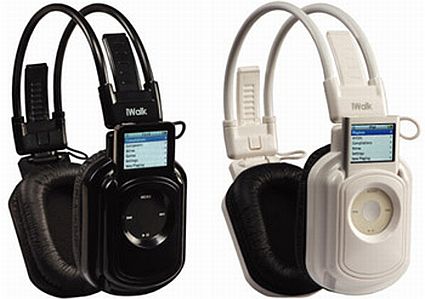 Broad wristwatches, Big sunglasses, Big necklaces, Big bags, etc. are making fashion statement these days.
Big bangs and unusual has become my choice too, like iWalk. Oh! I haven't told you yet what is iWalk. Actually iWalk will set your hands free while holding your iPod smartly in a slot in headphones. Moreover you won't have to take out iPod as iWalk allows you to access the scroll wheel without taking the iPod from the slot.
The headphones, which were first spotted in CES 2007, comes in two models, one compatible with the first generation iPod nano (LP-IP001), and another with the second generation (LP-IP002), and you can choose between white or black.
iWalk is not very heavy (headphones weighs 150gms and rest weight is of your iPod nano) and you can easily wear it while jogging or in the gym. Dimensions: 120mm (W) X 70mm (D) X 180mm (H) and becomes 115mm in height when folded for easy storage. You can plug iWalk to any 3.5mm audio plug. Price: US$ 58