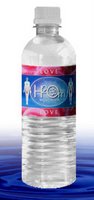 I am not sure what it claims it actually does or not. There is a high possibility that this firm has got all the plans to fool those who are already crazy for Yoga.
This bottled water H2Om claims to have healing power of music and spoken words. The brand's name comes from H2O combined with the spiritual basic OM. The firm says that while the water is being boiled they play such music and sounds which are enough to energize the bottled water with positive vibes. To do more of the same they have included special words and pictures on the label.
And above all when you sip this water you are supposed to think about all the goody stuff.
Via SNP