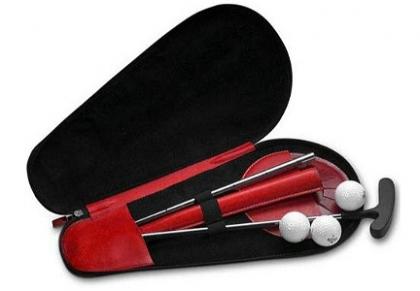 This New Year season is loved by one and all especially in the countries where this period conveys a pleasant weather. It's a high time to go for a picnic or a family holiday. And when it comes to games, there's nothing awesome than to play golf, while enjoying your outing in a sunny morning.
After showcasing numerous racing cars to clothing items Ferrari now introduces an eye catching golf-set. The set is composed of removable bat, 3 balls. It's comfortable and catchy leather enclosure with opening side zip in real skin is pretty cool to flaunt. The elegance and care in the use of materials, makes the product notable and suitable for customers.

Il Cavallino rampant, famous symbol of the myth of Maranello, is impressively hot. As you can see in the picture above, the red and black combo also reflects a soothing and classy touch.
So, if you really binge on going golf, get this set for adding that extra zing to your holiday trips. This superb creation of Ferrari has also gained much popularity as a perfect gift to a sport loving person.
Via: Embelezzia