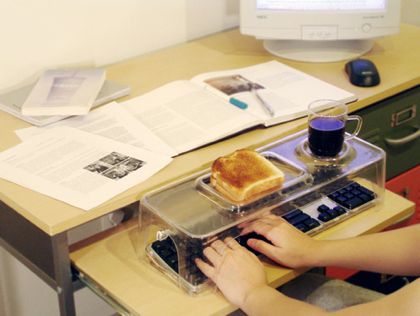 At last, an innovation to save the emaciated computer junkie! Since time immortal net junkies have been skipping meals to quench their thirst for knowledge (read: porn) and to kill time.
Well, seems like designer Duck Young Kong(No, he is not the fatter cousin of King Kong) is determined to make us go back to our gobbling ways as he designs the Keyboard food tray. It basically consists of a tray, which fits right on top of your keyboard and makes for cleaner eating (am sick of having those crumbs stuck in the keyboard) as well as comfortable drinking (circular spot to keep your coffee or beer).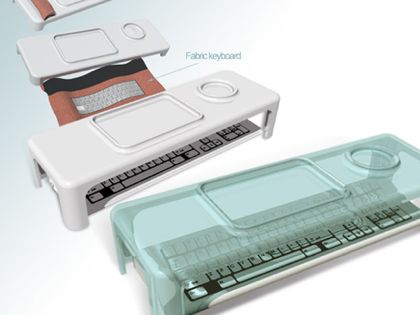 Innovative thinking! Well but if you are really that hungry, can't you just put it on the desk? Secondly, I hope my boss doesn't get hold of this and cut down on my lunch time. Nonetheless, it is a good accessory for cramped spaces and is expected to reduce the mortality rate by half (or maybe help me gain a few pounds).
via: techeblog.com
link: yankodesign.com