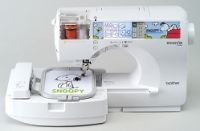 A Japanese Firm Brother Innovis has come up with a really innovative sewing Machine which allows you to create embroidery design of your favorite cartoon character within minutes. Isn't it really cool?
This new line of sewing machine comes with preloaded several comic characters and hiragana katakana symbols. New data can be downloaded via internet into a data card incorporated into the sewing machine. Obviously you will not get it for cheap. It will reduce about $1,070 from your account. That's a heavy one.
After hearing to that one many of you might be thinking that buying T-shirt with rubber prints is a better and cheaper option.
Via I4U