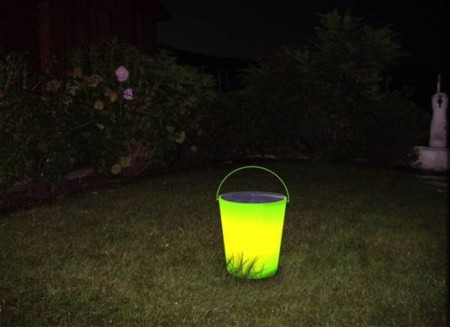 The Energy Bucket is Designer Stefano Merlo's artistic effort which highlights the need for energy saving. Merlo has hit the right nerves by raising the alarm in his own unique way.
The Energy Bucket is a solar-powered bucket that contains 1kw LED lights and comes equipped with photovoltaic solar panels which powers these LEDs.
The solar panels are installed on the lid of the bucket. Merlo's inspiration was based on the age-old practice of collecting water from the river in buckets.
The Electric Bucket tries to convey the simple message that mere words are not enough to reach our goal, action is necessary to succeed in any field. We talk about the need for energy conservation, but we never take the initiative on personal level.
Global policies on energy conservation will be successful only if each of us try to contribute a little from our side.
Meanwhile, I appreciate Merlo's great effort in designing such a masterpiece. The Electric Bucket is a treat to watch. It will certainly decorate your home in the most electrifying manner.