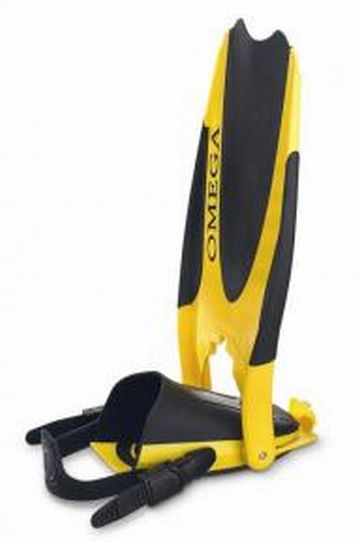 Want to skip the ordeal of dragging your fins in and out of water while scuba diving? Then the Dynamic Scuba fins by Omega Aquatics are just the thing you require. The convertible fins can be folded up when out of water and once you are in it, just click down with a kick and you are ready for the water adventure.

The durable and innovative fin is powerful, with an advantage of comfort, and incorporates a highly efficient blade design to ensure safety of the diver. The Amphibian fin system is uniquely designed featuring a web configuration, which increases the thrust during continuous kicking. You can strap it up before entering the water and remove it as soon as you pop out of it.
The two-piece fin is attached together by a special hinge, enabling the diver to keep the webbed blades of the fin up, while walking. The heavy-duty springs push the soft blade webbing against the shin, giving the divers the liberty to move in and out of water with comfort. The Amphibian fin is the brainchild of Omega's founder, Ronen Moyal, who realized the necessity for fins, which could be equally handy outside of water, as they were in it.
They are available in various sizes and are ideal for rescue and Special Forces divers, who often hop in and out of water. Moreover, all you recreational divers, no more slogging on the shore like some cartoon character. All those who are interested, contact Omega Aquatics to get your pair of the fins!
Via: Gizmag