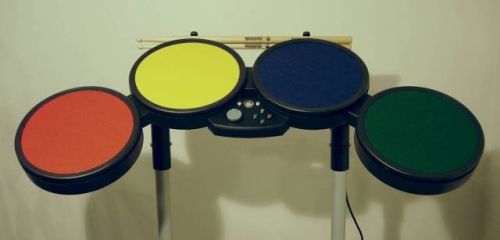 So you are your school's most sough-after drummer? Your college reunion is bland without your drum beats? And I take it that you are devoted to your talent. And practice every waking moment. Good for you.
But terrible for your neighbors. And I can't even imagine the ordeal your family is being put through. Your immediate neighbor on your right has permanently sealed his windows. The one on your left might not be so meek and it is quite probable that he storms to your house every time he hears the bouts of your musical genius and your parents face the brunt of a torrent of not-so-pleasant words. Again, there might be old and/or unwell people in your vicinity. You love your drums. But you are not inhuman, right?

So does this mean you stash away your beloved drums behind the cupboard? Never. Go for the Drumshhh. It shhh-s your drums. They are pre-cut, self-adhesive, foam-backed felt pads that attach to the face of Rock Band™ drum heads to reduce the drumstick noise.
The neighbor on your right would enjoy some fresh air at last. And you never know, the one on your left might be happily surprised enough to actually appreciate your music! And I can see the smile on your parents' faces.
For God's sake, get it.
Source: The Ironic Gamer