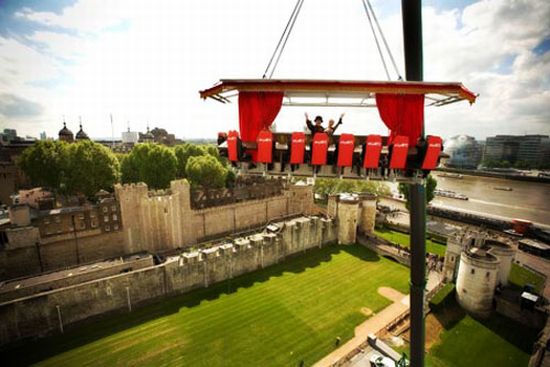 Looking for ideas to make a dinner special? There are numerous ways to do that, but how about a group dinner as special and something to cherish for life. There are limited choices and the one of the most unique way is to go the Dinner In The Sky way! Dinner In The Sky gives the thrill of a lifetime. It offers about 500 square meters of space with 12 person sitting arrangements. Dinner in the sky is comes with a chefs and waiters. No special dinner can be complete without some entertainment and for that you can always ask for another dinner platform for some live entertainment. It takes the fun of having dinner to an extended height.
Dinner in the sky concept is hosted on a secure table that is suspended from strong cables. You can enjoy light snacks while hanging at a height of 50 meters. This table is hung in the sky with the help of some experts from the Benji Fun team. Imaginative, thrilling and delicious, a dinner that is complete in itself.
Not only dinner, but breakfast and lunch can also be booked. You can choose a place of your choice to hold this dinner, may be a golf course or some other public place with enough open space around to enjoy the maximum fun. This kind of a dinner in the sky costs you $5,000 for 2 hours. Your options and other choices are exclusive of the price. Check this out for more information.
Looks like shelling out some good amount for an out of the world feeling!
Source: Gear Patrol