Smith Newnam is a multi-faceted designer from Raleigh, North Carolina. He is of the view that Industrial Design represents the perfect balance between creative expression and practical considerations. Hence, he tries to design with research and inspiration to create original solutions. For him his technical skills – which he has acquired because of his background in mechanical engineering – and aesthetic sensibilities are instrumental in giving the final and of course the perfect touch in all his creative and dynamic artifacts. This is just a mere introduction you'll get to know more as you'll scroll further.
1. When and how did your journey into the genre of designing begin?
Smith: I actually started at North Carolina State University thinking I wanted to be a mechanical engineer because I liked taking things apart and figuring out how they worked. I had never heard of industrial design until about three years ago when I saw work from a friend of mine at the design school (Jill Davis, who you've actually interviewed before!) Having had interest in other personal creative outlets, and feeling like mechanical engineering didn't allow enough freedom, I saw an opportunity to satisfy my creativity and problem solving in industrial design. I am very glad I switched.
2. You have come out with amazing concepts, who or what is your perennial source of inspiration?
Smith: Thank you. While the references I use vary from project to project, I generally am inspired by nature. Nature is the best problem solver and often the most beautiful while doing so.
3. What were some of the market trends you witnessed when you were attempting to make the Pebble MP3 Player?
Smith: At first, I wanted to bring the beauty of nature into an mp3 player. So, the trend that fit this desire was the green trend – and I extended that definition into using natural forms and colors. Secondly, the trend for devices like a small mp3 player and most recent consumer electronics is a black, glassy, and sleek look. After some development, I felt by merging these trends, I could lighten up the seriousness of the object while still appealing to the current tastes in the market. I feel good about the success of my trend-predicting project (completed Feb. 08), with the recent announcement of Samsung's own pebble mp3 player (Apr. 08).
4. Please tell us more about the Ripple Faucet?
Smith: The Ripple Faucet was developed in collaboration with Touch360 to be a new approach to interface design. The concept was to use sensors that doubled as electromagnets for controlling the faucet. I used a reference of ripples in the surface of water as inspiration on how to arrange these control points. I also thought that current faucets hide too much. Generally the water comes from one opening, regardless of whether the water is hot or cold. There is little way of knowing whether the water coming out of this single hole is going to be cold or scalding hot. By separating out the two sources, I sought to make a more intuitive visual connection to how the faucet is behaving and what temperature the water is.

5. Form follows function, how far am I true in holding such kind of assertion especially with respect to your concepts?
Smith: I think the saying 'form follows function' best applies to the natural world. While it is a good guideline for our designs, I do not think it is a rule. It is entirely possible to ignore function, and focus on form, or vice versa. Determining the ratio of importance between form and function is something we can decide on as designers. Some of my projects, for example, put function on the backburner and focus more on form.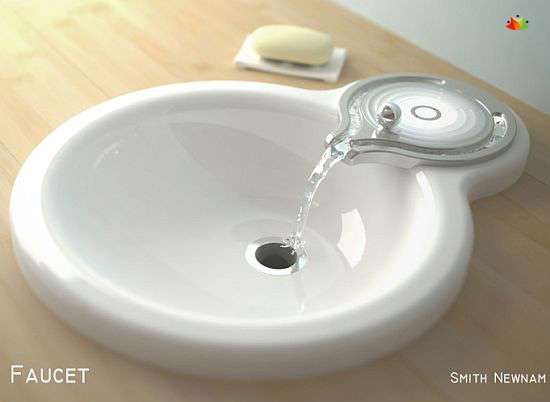 6. What is the difference between your Spy Optic Brand Watch and Nike Amp+ since I feel both have similar contours?
Smith: You are right. They are very similar. This is one of those projects where form (aka styling) was my focus. I was inspired by the way the Nike watch concealed complex information beneath a smooth facade. I thought this translated well to the concept of sunglasses and Spy's brand. Sunglasses conceal the eyes, and the information they contain, and Spy keeps their image very smooth. Aside from the styling (which I would say is the main difference), the way I envision the watch functioning would be different. I had concepts of the watch staying on all the time, and perhaps having a docking station to induction charge the watch at night. Because of the scope and timeframe of the project, I didn't get to develop those elements.
7. When working on a design project for a client, how do you get started, I mean what is your design approach?
Smith: Well, identifying and understanding the problem is the standard approach. From there, I look across the spectrum of existing similar solutions to the problem or parts of the problem and try to find a synthesis. I think solutions can be found in all kind of places, too. For example, with the pebble mp3 player, I wanted to convey the feeling of an embrace, since that is what the end user would do. I found a similar solution in the way a vine wraps around an object.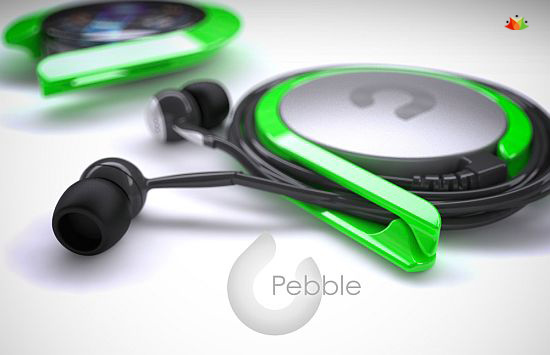 8. So what's next in the pipeline for you?
Smith: After graduating, I hope to work as a freelance designer.
9. Any maxim you'd like to leave and your take on coolbuzz.org?
Smith: General problem solving and thinking will go a long way to helping people adapt to the shifts that are occurring nowadays.
I think some of the things coolbuz covers promote original or clever thinking, and that's definitely a good thing.


Short answers:
Who is Smith Newnam (in one sentence)?
Smith: I would say I am the eager problem solver.
What is your greatest accomplishment (so far)?
Smith: A highlight for me recently was representing NCState as an IDSA student merit award winner this year.
Your definition of design would be?
Smith: Fulfilling a need.
Your wildest dream is?
Smith: To have the freedom to design in an environment where the bottom line is not the primary measure of success.
If you were a historical person, who'd you want to be and why?
Smith: It sounds cliche, but I suppose Leonardo da Vinci. There was a lot of creativity in his time, but life still moved slowly enough for him to observe the world and create.
Thank you Smith for sparing out time in doing an interview with us, it is greatly appreciated.
I'd also like to wish you luck for all your future endeavors.