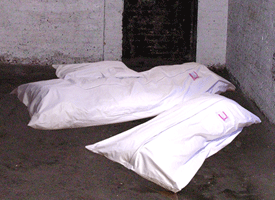 If you love head banging to likes of Type O'Negative, Switchblade Symphony and Siouxsie & the Banshees, this bean bag is right up your alley. This morbid piece of furniture has been designed by Joe Riley as a part of the 'Dark Designs' show. Designed to look like a 'fresh' body bag, it is sure to give that Goth feel to your living room. Laying on your floor it is ideal to get that ugly blind date scared to death.
Inside the white outer bag is a bright pink body shaped bag that contains the actual beans. The innovative body bag bean bag comes in three sizes with a price tag which hopefully will not awaken the dead!
Dead large which comes with a Dead small for 100 pounds.
Dead medium for 60 pounds.
Rest in Peace!
Via: coolest-gadgets.com
Link: udderstuff.co.uk