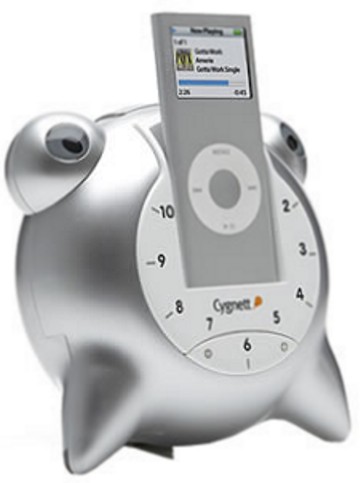 It looks like any other ordinary alarm clock, but its a powerhouse. Infact, it is the coolest iPod accessory I've ever seen.
The Cygnett GrooveToons Speaker and Alarm Clock System is a novel way to test the nerves of your new iPod nano. Just dock your iPod with the Cygnett, and you are ready to enter a whole new world. The Cygnett's integrated speaker system makes it possible to play your favorite tunes and listen them loud.
Once docked, your iPod becomes completely synchronised with the Cygnett allowing it to charge itself as you play your favourite song or just use it as a clock. The clock and alarm gets automatically displayed on your iPod screen, making it even easier for you to see the time at night. You can even set your favorite track as your morning alarm. It will be fun waking up to your favorite track.
The Cygnett sells for £29.99 ($60) at ipodworld.
Get the Cygnett and get into the groove!