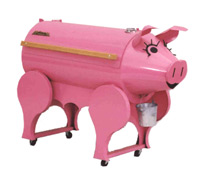 If you love crazy designs then Traeger Grills presents to you some crazy grill designs that are shaped like pig and bull! The grills are though strange in design but boast of great features including Autostart, EZ-clean grease system, and a variable thermostat control. The grills are designed to burn wood pellets instead of charcoal or natural gas and it sells for $1,495.
Cool Factor: Features
UnCool Factor: Shapes!