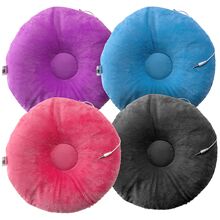 Sometime back, we covered the iPillow and now it is the Cozy Tuner…it seems these music equipment manufacturers are in a mood to take good care of your bed time music listening instincts.
As before, it is Pillow that is attached to a cool music player. Only difference lies in the price, as Cozy Tunes is far more reasonably priced at $14.99 in comparison to the heavily priced iPillow.
It wil be safe to say that you will not ever have sleepless nights as Cozy Tunes is pretty affordable and is available in cool colors that you can choose to suit your bedroom.