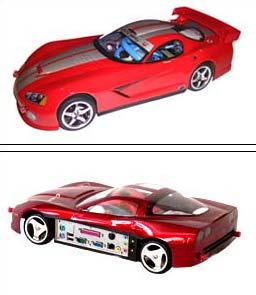 Compucar has come up with the world's first desktop computer which appears like a car. This adorable tiny gadget is the slickest computer I have ever seen. Compucar claims that they have used the best rated components while manufacturing this device.
Though Compucar is just one third of the size of a normal computer but its really fast as it utilizes 40GB SATA hard drive, Pentium 4 Processor, 512MB DDRII 533MHZ RAM, Slim Line Slot Load CD-RW/DVD, firewire and a lot more.
You might be thinking that all the connecting wires may spoil its cool look, but that's not the case as all the connections are made via driver's side.
To become the proud owner of this mini computer you will have to pay $1750. Oops!
via [Born Rich]