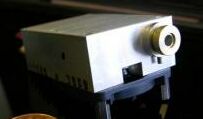 With the latest PVPro Technology makes it easier to share photos with your friends and to view videos and pictures from your tiny gadgets like iPods, mobile phones, laptops and many more.
Based on the technology Light Blue optics has come up with a compact projector which miniature lasers to screen images in real time. It works on the diffractive character of laser lights.
This micro mini gadget which uses novel optical techniques and computational algorithms is a major break through in the world of projectors. This is the first product which makes use of PVPro Technology.
Read More Gizmag