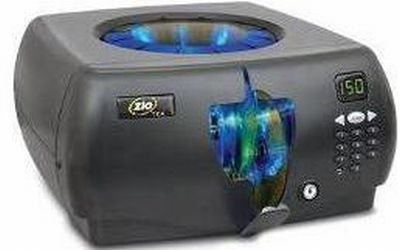 Some people I guess have a great craving to organize everything around them to what they believe is perfection. It is really an annoying little character to have at times, but when you are packing or moving stuff around, it is an absolute asset. I personally know a few people who fall under this category and that list includes my mom. I would not really mention others as either they are friends who would not like being mentioned or people who have my next semester marks in their hands. But the fact of a matter is that some people just are happy to see everything organized and in place.

For all the neat, tidy and the organized folks here is the CD Carousel Plus. It can store 150 discs, and it looks pretty compact. You might want to connect it to a computer, create a database and then you can search your collection by title or keyword. Once you find what you are looking for, then you are just a click away from seeing it roll out for your use. It looks very portable but not the most stylish. It seems to be good for those who have a very large collection of DVDs or CDs and value them a lot.
For my part though it is not something that would ever be on my shopping list. I'm the more disorganized sort with shabby arrangement of stuff. I like to pluck my CD out of an open and easy to see pile and then throw it on top of the pile once I am done with it. Yes, I'm no neat freak. This must be a product out the 'Monica Geller Collection' going by the look of it. Priced at $200, it might be a good buy for those more inclined towards an organized way.