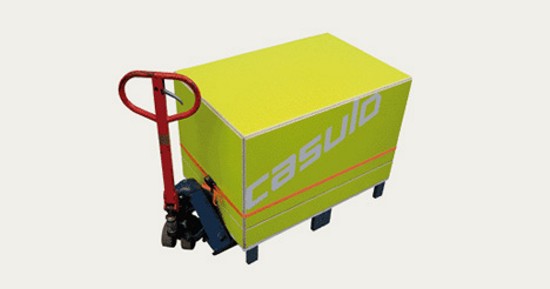 Very soon I'm gonna have my new bedroom neatly delivered in a beautiful box. 'What? A bedroom in a box?? Are you nuts?' You are free to react in the best possible manner, and I'll accept your harsh comments without any ill will. As long as I get my daily dose of offbeat concepts, I'm game for any label. But tell me, what shall I call you when you pity yourself for not believing me? Anyway, the box that you see at the top is no ordinary box.

Casulo is a new concept for mobile living designed by Marcel Krings and Sebastian Muhlhauser. The 31″x47″ box contains an entire bedroom suite which can be easily assembled in less than 10 minutes. The assembly requires no external tools. Just open the box and you get an armoire, a desk, a height-adjustable stool, two ordinary stools, a six-shelf bookcase, and a bed with a mattress at your disposal.
Amazing is the right word to describe this beautiful concept. Still having doubts? Have a look at the gallery and gather the shattered pieces of your ego.
Via: Yanko Design