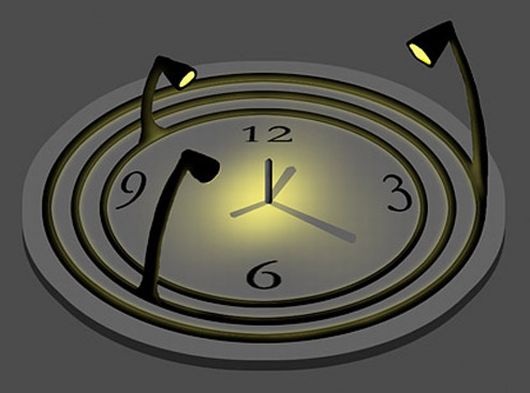 A sundial is one of the most ancient time measuring machines. They are very simple yet very effective and do not involve any tedious mechanisms, and hence were in common use for ages before the advent of industrialization. The sundial is based on a simple scientific concept that the length of the shadow of an object alters during the day time as the sun rises in the east and sets in the west. Origin of the sundial can be traced back to 5000 B.C. — when our stone age ancestors used an erect stick in an open space. Sundials were very common in the ancient Sumer empire of Mesopotemia and Egyptian civilizations.
Well, what we have here is a beautiful blend of this simple technology and modern advancements of mechanics. The 'BulbDial' Clock has a pointer at it's centre which is our ancient sundial. But over here, the source of light are three bulbs that revolve round the dial in three different orbits to cast three varying length shadows of the pointer — to represent second, minute and hour hand of the clock. That's where modern mechanics comes into picture!
It's not known if bulbs would require a battery or could their orbits be scheduled as the Bulbdial is still a concept, but with this concept we certainly have a cool gadget in the making!
Source: DVICE