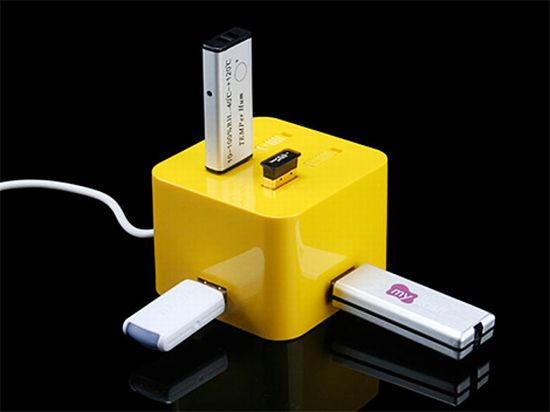 This is something that I really could use not because I am a techno freak who uses plenty of gadgets, but just that the two ports on my system are too adjacent to each other which means I cannot fit my Pen Drive and my USB Internet device both simultaneously. This probably is the perfect solution for that. The Brando's Cube Hub allows you to connect 4 different USB devices at the same time. The cute Cube Hub has 2 ports (on the top) can be On/Off switches. It looks pretty stylish and if you are a girl then you might happen to like it a tad bit more than the guys would.
The Brando Cube Hub is designed to allow more than 1 USB to function from the same port with the help of the Hub. While we will not discuss the technological aspects too much, one must say that the styling on this is pretty cool. But I do have a bit of a problem with the color though. It apparently comes in Green and Orange and I'm still trying to figure out what that goes with? I would have preferred Black and Silver combo which goes with most systems.
Despite that tiny little aesthetic glitch the Brando Cube is a really useful and stylish extension at $12, which also makes it a decent buy.