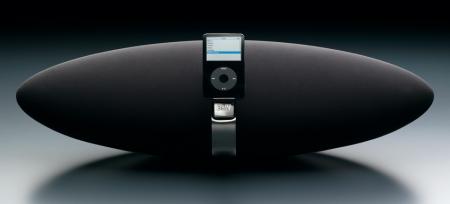 Those who have an ear for music know the importance of good speakers. Whats the use of loading your iPod with scores of your favorite songs, when you have to compromise with the audio quality each time you turn your gadget on? Bowers & Wilkins decided to take the matter seriously, and the result is a high class speaker system that gives a whole new dimension to music.
The Zeppelin iPod speakers from B & W is designed to give new meaning to your iPod music. Zeppelin is a miniature wonder based on the same technology that makes Bowers & Wilkins' legendary 800 series speakers. A true music enthusiast never compromises on the quality of music; and Zeppelin is the ultimate solution to listen to your iPod music in its undiluted form. Just plug it in, place your iPod on the docking port and enjoy hours of crispy and deep stereo sound which you generally miss on your iPod.
Zeppelin also allows you to stream videos from your iPod to a TV. You can even use it to play music on players other than your iPod. Apart from its crystal clear sound, Zeppelin excels on the design part too. Zeppelin's sophisticated design and elegant contours will cast a magic spell on you.
The Bowers & Wilkins Zeppelin iPod Speakers are available for $599.95 from any Apple store.