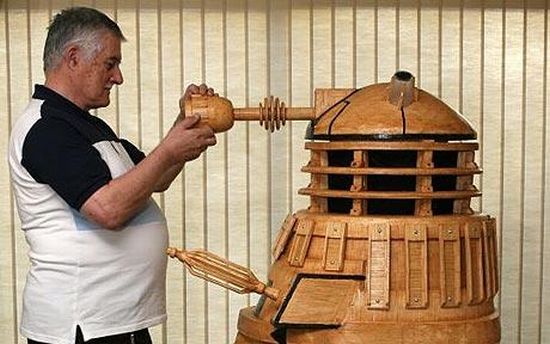 Well done Brian Croucher, for you're among those who strive to achieve what they think. Irrespective of the age, 66, and the back problem, you still have that fire to fulfill your hobby.
For the past two years, this determined old man had been working, an hour or two a day (owing to a back problem), to construct a life size (5ft 3in) model of one of television's scariest aliens, and that too using matches . Yes, a Doctor Who Dalek model created out of 480,000 matchsticks.

The Dalek sits on casters to help it move around and with the help of a voicebox inside its domed head can even utter its chilling catchprase "Ex-ter-min-ate, ex-ter-min-ate."
I'm sure, as you wish, you would find plenty of bidders for the Dalek. I wish you luck for your next venture.
Via: Telegraph