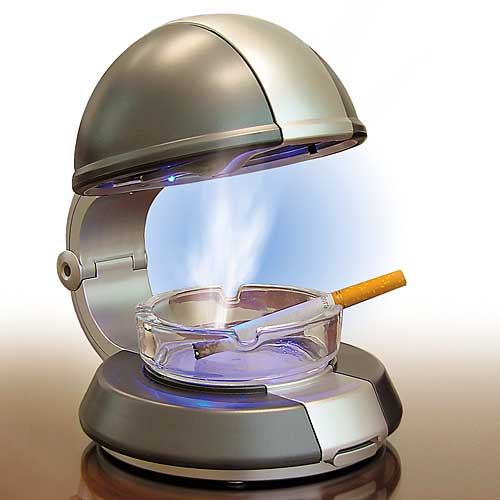 If it makes you wonder that where was something like this when you had to hide in the washroom to take a fag, and still get caught by your dad, then curse your luck.
This is one of the favorite topics as well as growing concerns for environmentalists and scientists. Smoking cigarettes affects not only your health but also of the people around you who become passive smokers. You are shunned by everyone for polluting the air and so on, and you turn deaf ears to all this. But if you turn deaf ears to this, then you might be missing some valuable advice. Check out the Anti-Second Hand Smoke Ashtray.

How about smoking and still not polluting the air or leaving bad odor behind? This interesting ionic smokeless ashtray cleanses the air you taint. The polluted air is purified with the ionic technology. This ashtray splits down the smoke to tiniest negatively charged particles and throws them to the stainless steal lining, full of positively charged ions and it eliminates the smoke and keeps the air fresh for you.
It has a built in night light for you to quietly drop you ash into it. Made with stainless steal, it comes with a glass ashtray and adapter. It is 7.5 × 5. 7 × 3.7 inches in dimension. And, definitely looks pretty chic.
PS: Cigarette smoking is injurious to health.
Source: Sdamy