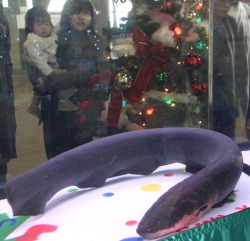 Indeed human imagination know no bounds. It finds new and unique ways to make the most of nature and its creations. In one such experiment in Japan an electric eel, the fish, would be used to power the Xmas tree lights.
We all know that an electric eel uses its natural electric current to hunt its prey and keep enemies at bay. However, this Xmas an aquarium filled with exotic fish would use an electric eel to power lights on a Christmas tree. But how does it work? Well, it's pretty simple each time the electric eel at the Aqua Toto Gifu aquarium touches a copper wire in its tank, it sends power that lights up globes decking a Christmas tree. Hmmm. Simply ingenious!

Officials of the events are expecting that this kind of eel Christmas tree would be able to lure many people. I wonder what would Santa Clause say when he comes on his sledge to distribute gifts. Would he be shocked or awestruck? Well, this is just the beginning as the Xmas approaches. I think many organizers of various events would try and vie with all kinds of bizarre and unorthodox activities to rejoice the spirit of Xmas.
Source: Mainichi