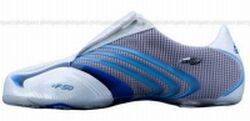 These amazing new footwear, gives a player the complete liberty to adjust their shoes according to their comfort, requirements, kind of pitches and weather. It can become an awesome style statement as well, because you can mix and match their various components .
I am talking about their upper, chassis and studs. But if you don't wana take so much of pain then there is a wide variety of colors, style, design to choose from.
Apart from style +F50 TUNIT has got endless reason why you should buy it. Its extremely lightweight, has got extra cushioned layer to provide extra comfort, shock absorption and above all 360 degree cooling effect.
Via Gizmag