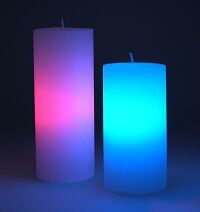 These are real wax candles having a LED Flame. Sounds interesting. These candles are an ideal way of adding warmth and color to your environment. Good for home and office purpose these can be used with or without flame. These LED candles are capable of changing colors constantly but if you want to see it in a particular cooler then that's possible as well.
A Tall candle continues to glow for almost 24 hours and lifetime of its LED is more than 100,000 hours. You don't have to worry about the batteries and wax refills as they are easily available.
These various sized candles fall in the price range of $3.49 – $19.9.
Via Think Geek