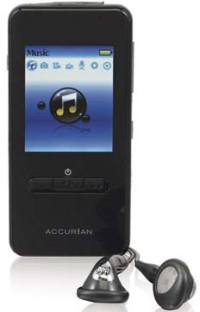 The Accurian Video MP3 player comes as a help when you don't wish to break your head over headphones. Most MP3 players available in the market, today, leave you no choice but to use headphones. If you wish to share the fun of some of your favorite tunes then you have to search for a splitter and spare headphones (in case your friend isn't equipped with one!).
Accurian provides an easy solution with the built-in speakers, so that you don't have to put the headphones on. For a tricky price of $59.99 (why cannot they just put it as $60 instead!), you get a very affordable digital audio player. It also has 1.8″ color screen for you to view all that you hear, and a FM when you don't want to select songs. It stores up to 2GB of your favorite stuff, say your tunes, videos and pictures.
The other feature, which is even more interesting, is, it comes with the video format conversion software that allows you to upload videos of you choice without spending time on conversion. This feature also allows you to check which one is the most befitting format for that particular number.
The Accurian Video MP3 player not only comes in an affordable price but also with choices for you to choose between headphones or built-in speakers. So start with Innie, minnie, mini, mo!
Source: Chipchick