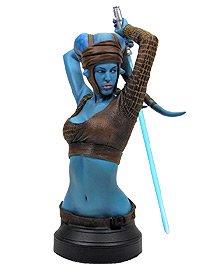 Add a touch of history to your room. This mini bust of Aayla Secura is sure to lend a uniquely Star Wars aura to your room. For those of you who are not aware of the history of Ayela Secura, here it is…
Like her fellow Jedi, Aayla Secura became a general during the Clone Wars. During the Outer Rim Sieges, she was stationed on the colorful world of Felucia. As General Secura approached the opposing Separatist forces, Chancellor Palpatine activated Order 66, and contacted Aayla's clone officer, Commander Bly, via hologram. The executive command identified the Jedi as traitors to the Republic. Bly loyally carried out the order, raising his blaster rifle against his Jedi general.

This item, which stands 8′ tall, crafted out of poly-rasin and is of full-color box, is truly a collector's item.
At $49.99, it's a steal!
When ordered online from Star Wars Shop, it is shipped worldwide (except Mexico).