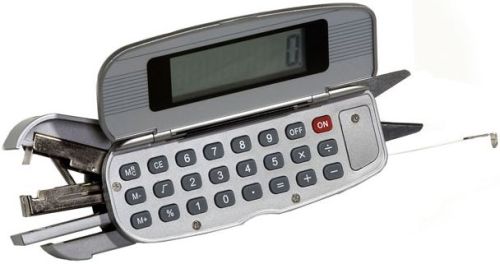 How many times have you reached office, fumbled in your pockets for your calculator and realized only too late that you have left it at home? Quite a number of times I am sure. And if you are like me, you never remember where you last saw your pair of scissors and your stapler is forever missing, and they do the special vanishing act just when you desperately need them. Sounds familiar? Read on.
It's time to bury all your worries with the Office Multi-Tool. Now that's what I call convenience. This compact little (2.75″ x 4.25″ x 1.25″) tool is loaded with everything you need, and loose, much too often — calculator, stapler, paper clip holder, scissors and 39″ tape measure. This would come in really handy in your everyday professional life and specially on business trips. Just put it in your briefcase or pocket, without worrying what you might be leaving behind.

The silver finish, coupled with the flip-open case lends it a sophisticated touch. It is up for sale for $19.99, including batteries.
Source: Bookofjoe