Folks this post is about eyewear, and this time around it isn't about making a top ten list or trying to compile the best in the business, rather, I have tried to go beyond the pomp and show concept and bring together a list which is more "meaningful" and more appropriate in today's world. In short, few utility goggles you would like to possess.

1)Wearable Computing: Special Goggles Analyze Eye Movements To Diagnose Disease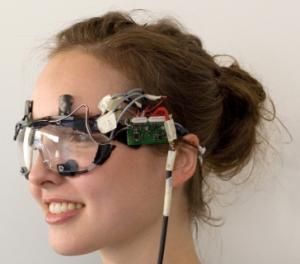 This entry holds a special place, well; you would have guessed the reason by now? Utility – personified. This is what I call – technology at its very best!
The expression Wearable Computing includes portable computer systems that a person wears on their body, for example as spectacles, a wristwatch, belt or piece of clothing. However, these portable computers are not operated actively and directly by the wearer as is usual with computer systems. Instead, they support everyday activities, rather in the sense of an intelligent navigation system, an easy-to-operate user interface or long-term medical monitoring.
2)Cyber MC brainwashing goggles help you quit smoking and meditate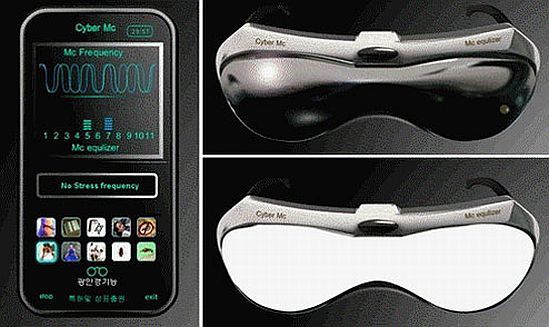 A goggle that helps you quit smoking. Hmm, seems like the manufacturer has a far better willpower that the desired users'. Check this out – it gives you an electric shock every time you even think of reaching for that ciggie.
3)Olympus Mobile Eye-Trek



This eyewear has an integrated 3.2mm x 2.4mm LCD panel located in front of the right eye, which functions as a 3.8' display which is located 50cm ahead from the viewer's perspective. The idea behind the innovation is to provide the wearer a wireless transmitted information about his current location (would love to wear it when I'm high), as well as places of interest, recommendation and trivia. GPS tracks the user's location and wireless functionality allows the device to send and receive data from a server which is hosting the local data.
4)Cyber Goggles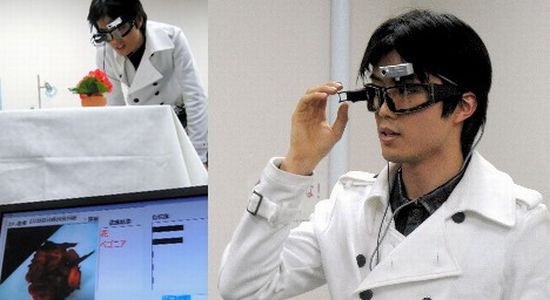 These goggles record everything that you look. It then recognizes and allocates names to objects that appear in the video, and creates an easily searchable database of the recorded footage. The computer records the footage and relies on ultrahigh-speed image recognition processing software to analyze, name and file the objects that appear in the video. When you type in the keyword to search for a particular item, the corresponding video plays on a tiny LCD screen attached to the right-side lens, thus helping you to recollect where you placed the missing item.
5)Weight loss glasses make food look gross


These shades make your food look gross, hence killing your appetite. Unfortunately it doesn't restrict your sense of smell and since you always have the power to take them off, the trick isn't exactly foolproof.