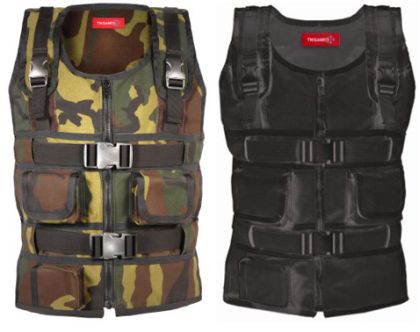 The vested interest takes a Q turn here. '3rd Space Vest' will actually make the video game players feel the pain like real (like reality shows, you know that they are virtual reality and obnoxiously fake). The vests are not for your safety, but to make you feel actually unsafe and gives you a feeling of walking down the real battle field. It's about feeling the shots aimed at you by your enemies, the stabs (and back stabs from the dear ones), feel the slams from the demons and so on.
3rd Space Vest was originally designed by Dr. Mark Ombrellaro. The vest or medical instrument is meant to poke and press patients' bodies remotely and thus receive feedback on whatever they are feeling is still awaiting a FDA approval.
Creatively, TN Games seeing a lot of scope on the product unveils the 3rd Vest during E for All video game event in Los Angeles. Don't worry, its not the one created to carry out distance based investigations. Dr. Mark Ombrellaro has redesigned the vest for the gamers. Gamers will feel the impacts of playing games as mentioned above by experiencing an alternate air pressures which stimulates the sensation.
Eight pneumatic cells will be embedded in the vest. The cells are exclusively designed to simulate the direction and force of bullet fire in a first-person-shooter (FPS) game like 'Call of Duty.' The game will also be launched with Call of Duty.'
Will be available from November for approximately $189.