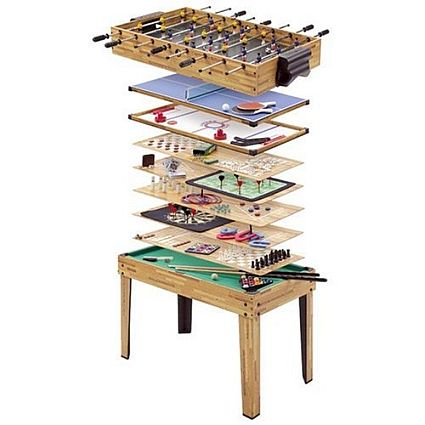 Yes its sport time, its fun time and it is selection time for all the game lovers now get to choose their favorite game and enjoy playing it all at the same time. All thanks to the new 20 IN 1 MULTIPLAY GAMES TABLE. You can now decide which game you wish to play and very conveniently shift in to another one if you get bored with one you are already playing because MULTIPLAY table gives you an option to play 20 games.

The table encompasses a plethora of the following games:
Table football
Pool
Glide Hockey
Chess
Chequers
Shuffleboard
Skittles
Playing Cards
Table Tennis
Magnetic Darts
Knock Hockey
Horseshoe
Pick-up Sticks
Poker Dice
Dominoes
Ring Toss
Magnetic American Football
Marbles
Tic-Tac-Toe
You can easily put these games off after playing as all games pack inside the table when not in use. This smart looking table is 127cm in length,62cms in width and 82cm in height.that means its less cumbersome and more useful.Its comes in oak colored wood with a price tag of £199.00.
via: Paramountzone