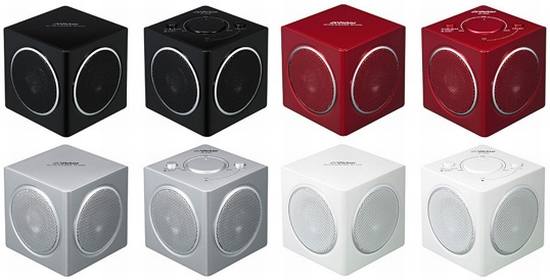 Everything is going small, compact and handy in the modern world. Speakers are no exception. Renowned Japanese company, Victor, announced the launch of its cube-shaped 2 channel speaker 'SP-A440'. The speakers look smart and sophisticated. I like the little 61.5 x 61.5 x 63mm cubes much better than the big rectangular boxes I had bought years back. These are going to be easy to carry around as they are conveniently lightweight, 163g(left)/146g(right).
The SP-A440 is available in four different colors including black, red, silver and white. Choose the color you think would go best with your home decor. I think the red looks a bit too gaudy, and red speakers would look strange anyway. If you think white will be difficult to maintain, go for the classic black.

If you want a pair, you will have to wait for some time, because these speakers wouldn't hit the market before the end of February. The price, in all probability, would be 5,000(JPY).
Source: Aving