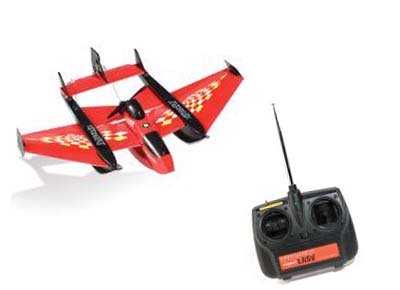 After the inventions like remote controlled cars and air crafts, now it's time to venture with a 3-in-1 vehicle. The latest model, here, is an exclusive combination of three crafts. It has three runners on its polynyolene undercarriage that can move smoothly atop water, grass, or concrete base. The 3-channel digital proportional radio system provides a perfect radio-wave communication which helps the vehicle's high-torque motor to achieve three speeds with a specific control up to a range of 500′.
This light weight (3lbs.) dream-craft can race against a RC boat along the water surface as well as the racing cars on the tracks. What's more, with a tap of the elevator button it swiftly shoots straight upwards in the air. While ascending vertically it may carry out some dodging and darting moves and shakes.
The transmitter which also controls its hurl and yaw requires eight AA batteries. This Land, Sea and Air Vehicle [$99.95] comprises of a DC charger for the rechargeable battery, which provides up to five minutes of operation at a stretch. Moreover its double-coated, high-impact wings can endure rough landings and cope up nicely with all of its uneven aerodynamic behaviors.
Source: coolest-gadegets