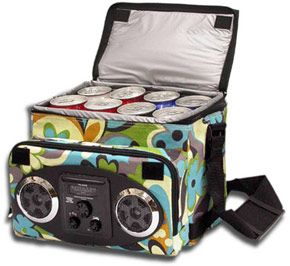 A couple of days back I wrote about a TV that was a 9.6inch wide LCD display panel cum an Italian leather shopping back and thought the idea was quite sad for it would be some real geek who would go for it. I hated the Idea but I guess a somewhat similar concept crammed into a more useful thing has definitely done better today.
The Cool booze bag pictured above is the Idea I am talking about. The bag isn't just another cooler for your beer cans on the beach; it also doubles up as a stereo which can be plugged into anything from a CD player to a PSP. Don't worry about your cans screwing up the stereo for the bag is totally waterproof, whilst the insulator inside makes sure that the cooling isn't hampered too.
All you would have to make sure before playing the funky jukebox on the beach is to carry 4 "AA" batteries. Where you normally pay $40 for buying a booze bag, to tip in another $7.99 won't be a bad idea for you can booze and get blown all in a single go.
[Courtesy]