In 1981, an amazing musical instrument was offered to the world by Suzuki. It's 'Omnichord' — an electronic instrument with a touch plate and chord buttons. Proving it to be simplest and easiest guitar, it was an instant hit with amateurs and even with professionals as they used it to create/check song structures while touring.
Omnichord has traveled long distance since then. The newest model of Omnichord is called QChord. It comes with midi interface and music cartridge capabilities. It again proves itself to be one of the best instruments available in market.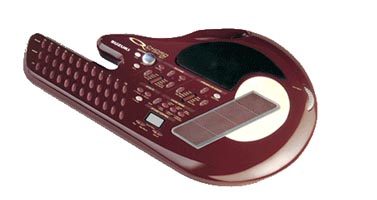 You maybe surprised to know that great acts like Arcade Fire, My Morning Jacket, Dolly Parton, The Dixie Chicks, John Mayer, Elvis Costello and Bjork use Omnichord and they are just few in the long-long list.
Via: CoolHunting