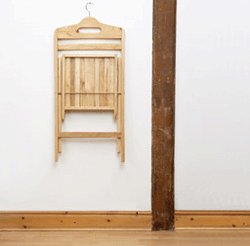 I never knew that a chair could be so compact and multi-functional. For me, a chair is just on what people sit and relax! But, after seeing Olivia's folding-cum-hanging chair, my perception towards chair has completely changed.
I must say, the said chair is indeed one of its kind. It is easy to carry. You can just fold it and put in your rucksack. Not to mention, it can also be used to hang clothes! This chair in an ideal choice for those who live in apartments and face lots of space paucity. But that doesn't deny its utility while on picnics or excursions.
Priced at $237, this folding and hanging wooden chair will give a distinguished and stunning look to your dining room, kitchen or can be used for relaxing in a study room. The use of wood in this space-saving chair adds quality and style to it.
Source: Productdose