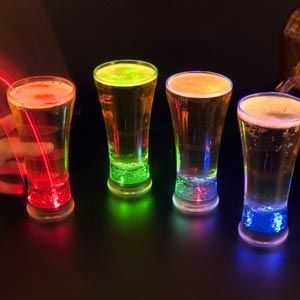 Did you miss your exciting bar hopping this weekend? Not well lit up? Try buying these light up Beer glasses. They will most definitely lighten up your weekend. Pilsner introduced the LED light up glasses. Here's more on the glasses.
The LEDs in he glasses have three settings: solid, single and double blink. The LEDs have three colors as well: Red, Green as well as Blue. You can lighten up your drink in a multitude of ways. You can use these flashy LED glasses for your next house party or you can also use them at the bar or pub.

I think this is great! The very fact that glasses can have LEDs embedded in them is unique. I wonder what kind of material they use to make these things. Most of these glasses last for a couple of years i.e. that's their shelf life, unless you break them. Prices are based on number of glasses you order. So, the more the cheaper it gets. The glasses start from $4.36 per piece. The company also makes LED beer mugs.

Image Credit: Eternalproduction