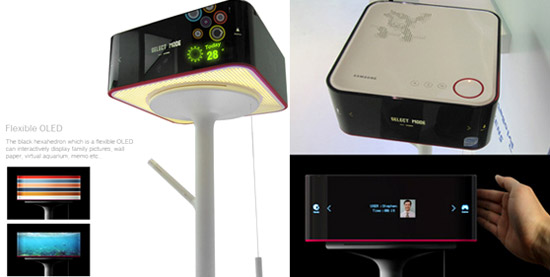 We bet you have a lamp at home. And there is high probability of you having a PC too. But I am sure you don't have something that's both!
Turning lamp is a unique blend of lamp and PC. Will technology ever cease to awe us? Operating it is a cakewalk. Just do what you had been doing all along. Pull strings to switch the lamp on. However, this time, instead of the bulb, what comes on is one of the four faces, giving you details of the weather, bringing news from all over the world into your room, the chance to email the business associate down the lane or a friend on the other side of the globe or soothe you with your favorite tracks.
What can be better? This: the whole thing is free from cords, saving a lot of hassle. The Turning Lamp comes equipped with a fold out touchscreen keyboard. That's not all. This thing seems to be loaded with surprises. Now you don't need to fight with your family members about who is gonna be the first one to work on it. As many as 4 people can use it at one time, doing entirely different things on the four screens. Moreover, you can display your prized photos on the screens, along with virtual aquariums and memos.

Kudos to designer Seungchan Lee for coming up with this. So far so good. We would wait to know further details about this gadget.
Source: Yanko Design