Every mother on this earth is incredible and is a superhero, and her children must revere her and appreciate her everyday but there is also one special day especially assigned to mothers, i.e. Mother's Day.
Started by the U.S. President Woodrow Wilson back in 1914, Mother's Day today is recognized worldwide and every child tries to make it special for his mother, to thank and appreciate all her efforts she puts in to keep her children and family happy. Mothers are incredible and we all know this, and after reading some of the following real-life stories of mothers who have made such big sacrifices for their children, you will be in awe for many days to come.
She turned herself into a Human Speed Bump to save her children
Such a brave mother Mindy Tran from Lawrence Massachusetts is. She had just locked the front door of her home and turned only to see her car rolling down her steep driveway with her two-year-old twins strapped in the backseat. She did not have much time to think and the first thought that crossed her mind was to throw herself in front of the car and stop it.
She did jump but she came under the car, and managed to stop the car but at the cost of both her legs. One of her knee was crushed and the other dislocated but she was happy to have saved her little twins.
A mother who sacrificed her life to bring a new life on earth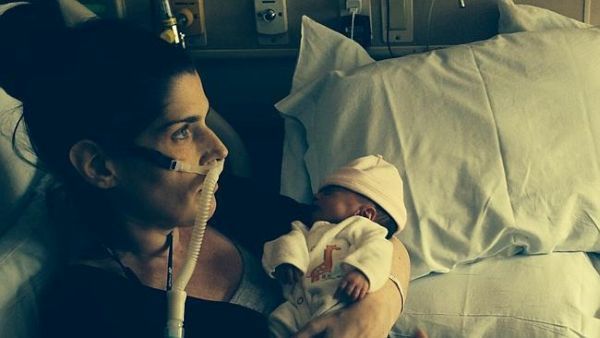 Image Source : News.Com.Au
This is a real story of an ultimate sacrifice done by a mother to save her child, she gave life to the unborn by letting go of her own life. In 2010, Elizabeth Joice from New York was diagnosed with cancer but owing to treatment and care, she defeated cancer and moved on in life. She and her husband decided to start their family and she conceived in 2013, and only a month later she was again diagnosed with cancer.
They both faced the biggest dilemma to terminate her pregnancy or to delay treatment until the baby is born. Elizabeth somehow felt that this is her only chance and later she would not be able to conceive again, so she and her husband decided not to abort the child. She gave birth to a baby girl but she succumbed to cancer a month later.
She fought the kidnappers for her daughter
Image Source : Punch.Cdn.Ng
Priscilla Ekpenyong was travelling in a taxi with her 9-month-old daughter that suddenly kidnappers attacked her taxi and started snatching her daughter from her. They pushed her out of the vehicle but could not do anything to her motherly love that kept her holding on to the vehicle despite taxi dragging her until a distance of 500 meters.
Then some security agents intervened, caught those kidnappers, and took them to the police. Her motherly made her act like a superhero and save her little daughter from the kidnappers.

Mothers are normal human beings but it is their love and determination for their children, whom they carried in their wombs for nine long months that makes them so strong, no less than a superhero when it comes to protecting their children.