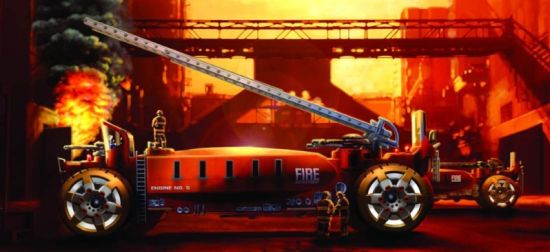 The year 2025; huge chemical fires rage all across the streets and the contemporary (read lame) fire engines scurry along. Not if it is up to artist and designer Harald Belker. He envisages a fire engine that is quite different from the fire engines of today.
As a part of the feature film Fahrenheit 451, which by the way was abandoned, Belker created this concept of a heavy duty fire truck. The engine looks real mean with its large tires and shiny body. And given the plot of the book, maybe it is responsible for bringing on the fires rather than fighting them. Either way, we really dig into it.
And frankly it is about time that the fire trucks had a metamorphosis. They seem to stay the same irrespective of the changes in times. Pity that this art is not being turned in to a toy or something; we could totally picture kids begging for one of these.