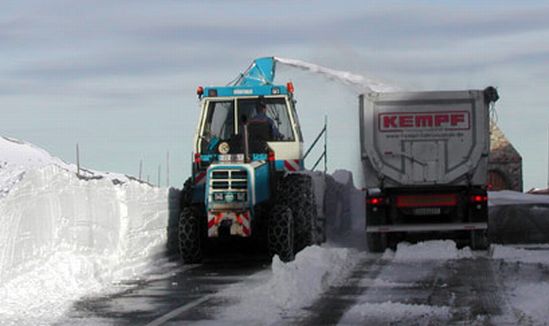 Anyone unfamiliar with the word 'Global Warming'? Did I hear…yes…oh dear, were you hibernating or something! Check this out: Alpine farmers harvest snow! Low altitude ski resorts in Austria are buying snow from higher altitudes, despite a freezing winter. Adding salt to injury, the biggest snow harvesters (Austria) i.e Grossglockner Hochalpenstrassen AG (GroAG) are getting orders to make a delivery to Legoland in Guenzberg, Germany, i.e 500 miles away. Wake up guys, it's now or never!
GroAG spokesman Dietmar Schondorfer said:
"Even if it doesn't snow, every day we have tonnes of snow dumped on the road by the wind, all we have to do is drive back and forward to scoop it up.
"We have received calls from as far away as Thueringen in Germany which is hundreds of miles away to order snow. We even had to make a delivery to Legoland in Guenzberg, Germany, that is 500 miles away."
Via: Ananova