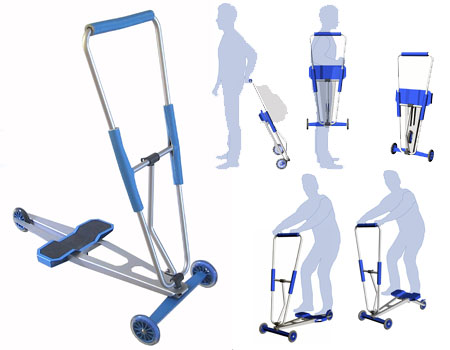 Two is better than one and three is as well better than two, mathematically speaking. So now, if you are tired of unicycles or bicycles, try this tricycle called 3Roll. Not sure, why it has been named so. Contradictorily enough, it has two wheels in the front and maintains your overall balance perfectly well, if you had a doubt about it.
The 3Roll resembles the traditional push cycles. And, it is quite good for long wide corridors or for spacious rooms. With one push, it will roll to only one desired direction as its wheels work with the bearings antiritorno system. It also has platform support, which the traditional push scooters lack.
You can easily carry it on your shoulder (when you get tired of pushing it, just kidding!) It is strong and allows smooth run. Now, just do some pushing practice, before you push-n-roll with these. Believe me, it would only help!
Source: Young Designer